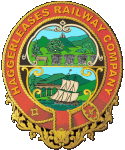 The Haggerleases Light Railway x
"..as to railroads, and all the other schemes...
I think Englishmen, who were wont to be sober, are grown mad"
- Lord Eldon (on the opening of the Stockton & Darlington Railway)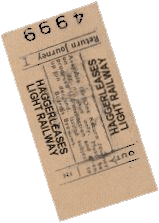 Dear visitor,
Welcome to the Haggerleases Light Railway web site.
The HLR is a narrow gauge garden railway, built to a scale of 16mm to the foot (1:19) and runs on 32mm ('O') gauge track, representing a 2ft narrow gauge prototype. This scale and gauge is sometimes known as 'SM32'.
Building commenced in 1999 when we lived in Winchester in Hampshire, and has lurched along in fits and starts ever since. A house move in 2011 to Colden Common, 5 miles south of Winchester, saw a new and longer version of the HLR. Another house move more recently to Nidderdale in N. Yorkshire means the start of the HLR Mk III.
Feel free to browse the rest of this site, where you can find something about both the previous versions of the HLR and progress on the latest version, along with some general information common to all, including locos and rolling stock, and some history of the "real" railway: the Haggerleases branch of the Stockton & Darlington.
Hope you enjoy your visit!

Haggerleases Rly Co
Pateley Bridge Office
16mm Association membership No. 4508